Shandong Zhaowei Steel Tower Co., Ltd.
Add.: No.2 East Highway, Economic Development Zone, Dezhou City, Shandong Province, China
Tel.: +86-534-8312771
Fax: +86-534-2237666
E-mail: tower@zwtower.com
Mobile: +86-18153478095
Contact Person: Jiang Fubin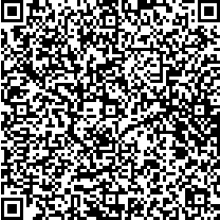 Home
» About Us » Custom Service
Custom Service
Shangdong Zhaowei Steel Tower Co., Ltd. has an annual output capacity of 60 thousand tons, and more than 600 employees in service. At present, Zhaowei possesses 5 advanced CNC steel angle production lines, multiple Plasma cutting machines and CNC band saws, as well as superior welding and metal cutting equipment. The specialized equipment guarantees specialized and large-scale production, further forming systematic and professional manufacturing and processing strength. All raw materials are purchased from large steel companies, such as Jinan Iron and Steel Group, Baosteel Group Corporation, Anyang Iron & Steel Inc., Handan Iron and Steel Group.
At the basis of mass production, all of our products can be designed, manufactured and processed depending on customers' drawings, including products' shape and function, adaptability to installation environment, raw material, processing technic, treatment process of product surface, requirements for spraying materials. For instance, the contour design, appearance and color requirements of landscape tower, the theme and material of urban cell site mural, can be designed and manufactured as customers' intents. In brief, we will pay more attention to customers' individualized demand by involving them into the product's design, production process, until customers are satisfied.
1. Accessories:
2. Manufacturing equipment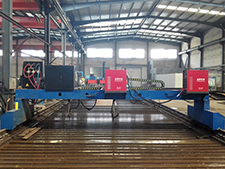 CNC flame cutting machine: flame cutting machine features small production input and large processing thickness.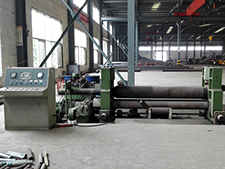 Upper roller universal plate bending machine
1. Unique bending technic, high precision end pre-bending, continuous bending without relief angle
2. Digital control man-machine dialogue control interface during bending process, high-efficiency intelligent software for bending technic operation, human-machine dialogue window
3. Automatic compensation for bending process
4. Can be operated by a single person.
5. Efficient, safe, convenient, abundant bending shapes, such as O type, U type, multi-section R type.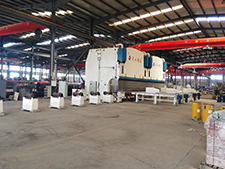 CNC hydraulic plate bender
1. All steel welding structure with high strength and rigidity.
2. Hydraulic transmission: the oil cylinders at both ends of the machine tool is placed above the sliders, directly driving them to work.
3. The slider synchronization mechanism adopts the torsion axis to force synchronization.
4. Adopt mechanical block structure, stable and reliable.
5. The slider stroke can be quickly adjusted, or by manual fine adjustment, with counter display.
6. The bevel wedge type deflection compensation mechanism is adopted to ensure higher bending accuracy.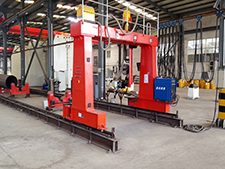 Gantry type longitudinal seam welding machine
1. The main welding machine adopts cantilever structure. After welded, two cantilever beams are annealed for destressing treatment to ensure that the crossbeam does not deform for a long time.
2. The pneumatic finger clamping system is tightly arranged along the two sides of the straight seam to guarantee that the butt weld be uniformly clamped in the whole welding length range. The spacing between left and right clamp fingers can be adjusted to be adapted to weld different workpieces.
3. Depending on the thickness of workpieces, air sac type or air cylinder type can be adopted to ensure enough pressing force to prevent thermal deformation during welding process.
4. The welding shaft is inlaid with copper mold, which can provide back-gas protection of weld seams. According to the type of workpieces, cylinder or plate type, welding grooves with different technics are processed, achieving single-sided welding double-sided molding.
5. The spacing between the welding shaft and pneumatic clamp fingers can be adjusted to adapt to the welding requirements of different workpieces.
6. Driven by DC servo motor, with gear-rack transmission and the track surface grinded, the welding gun walks stably so that the welding is stable and reliable. All air pipes and cables are placed inside the drag chain, presenting tidy and beautiful appearance and preventing the cables from breaking at the same time.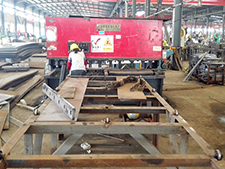 Hydraulic swing plate shear: accurate forced positioning, worm and gear transmission, polished rod and leading screw concentric, no noise structure.
Features: adopting steel plate welding structure, hydraulic transmission and accumulator return, it is convenient to operate, reliable in performance, beautiful in appearance.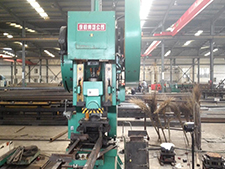 Open back press with fixed bed
1. High stiffness, high precision frame is welded by steel plated, and after heat treatment to eliminate the internal stress of the body, allowing the equipment to work stably and not to deform for a long time. The structures are loaded uniformly, under rigid balancing.
2. Stable high precision:
The main components of the equipment, such as the crankshaft, gears and drive shaft are all hardened through heat treatment, and thus have high wear resistance in the following grinding process. With long-term stable performance, these components ensures the requirements of high precision and stability.
3. Reliable and secure operating performance
The main reason of convenient operation and accurate positioning owes to the use of the brake different from traditional ones. The combination device of clutch and brake has super high sensitivity, combined with dual electromagnetic control valve and overload protection device common to international high-end equipment, guarantee the accuracy and security of the puncher slider on high speed movement and stop.
4. Automated production, labor saving, efficient
The puncher can be matched with corresponding automatic feeding device, with feeding error detection, pre-blanking, pre-stop devices, fully achieving automated production, featured by low cost and high efficiency.
5. Slider adjusting mechanism
The adjustment of slider is divided into manual adjustment and electric adjustment, convenient, reliable, safe, fast, with 0.1mm precision.
3. Team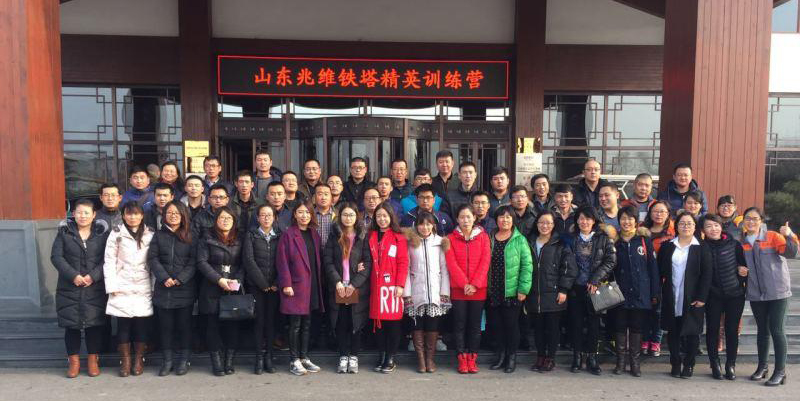 Management team
Other Products